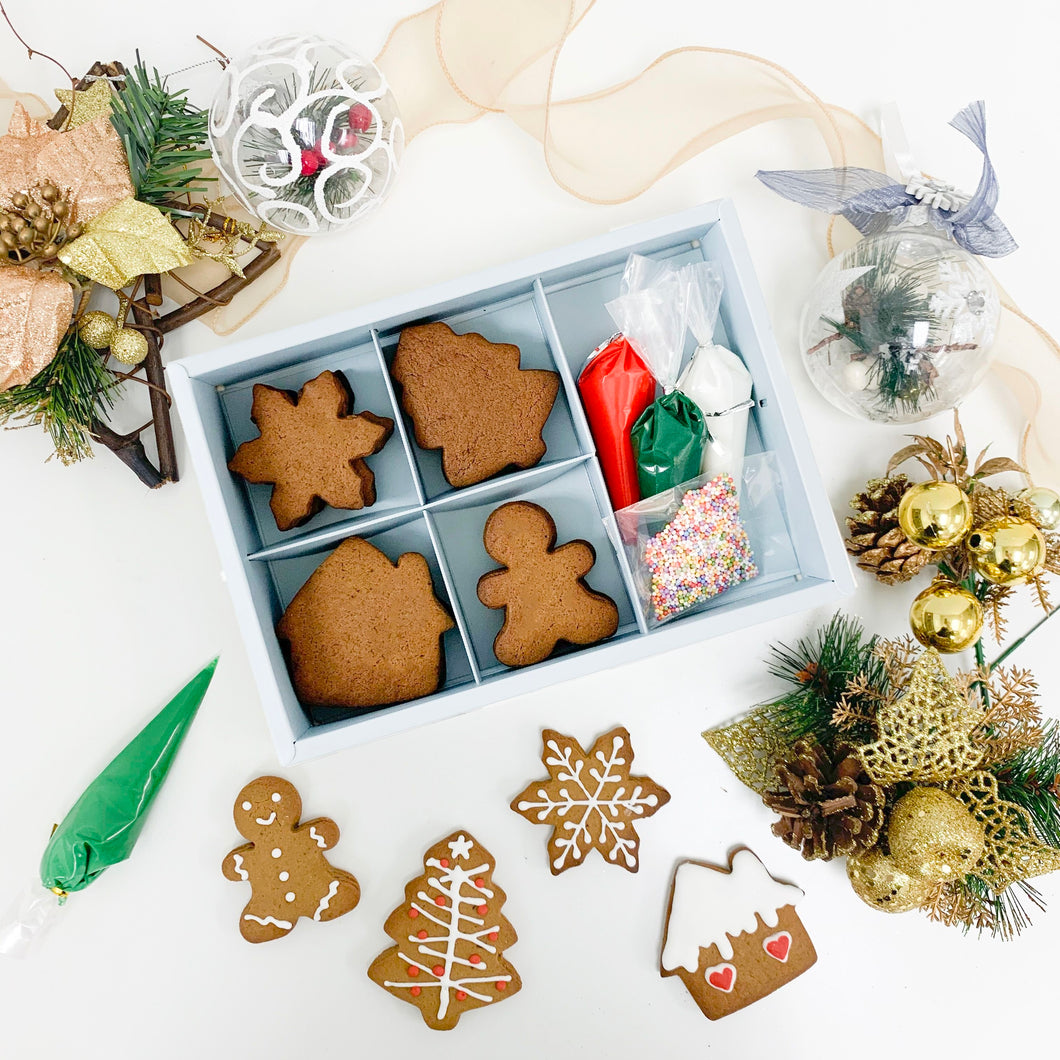 X'mas Cookie D.I.Y. Mini Set
Regular price $338.00 $298.00 Sale
X'mas Cookie D.I.Y. Set [12pcs]
This box includes:
Bow's Gingerbread Tree

 

Cookies

 Large 3

pcs 
Bow's Gingerbread

 Snowflake

 

Cookies

 Large 3

pcs 
Bow's Gingerbread Man Cookies 3pcs 
Bow's Gingerbread

 Chalet Cookies 3pcs

Royal Icing in colors of Christmas Red, Forest Green and Snow White  
1 packets of colorful sprinkles
Available to Pre-Order Now
Early Bird Discount ends 10 December 2023
Lead Time 5 Days
Pick up / Delivery from 1December to 24 December 2023
Pick Up
Causeway Bay - BOW Artisan Cakery Boutique
Shop G16, G/F, Lee Gardens Three
10 Hysan Ave, Causeway Bay 
Hours: Monday to Saturday 11.30am-7pm | Sunday & Public Holidays 11.30am-6.30pm

Kwun Tong - BOW Artisan Cakery Studio
Rm 904, 9th Floor, Wing Hing Ind. Bldg., 14 Hing Yip St, Kwun Tong
From Kwun Tong MTR Station Exit B1 or B3
Hours: Monday to Friday 11am-7pm | Saturday & Sunday Closed
Delivery

1 to 3 boxes - H.K. &Kowloon $100 | N.T. $250


4 to 6 

boxes - 
H.K. &Kowloon $200 | N.T. $3507 boxes or more - 
H.K. &Kowloon $250 | N.T. $450
**additional $100 each for more than one location 
FREE delivery to ONE location for 10 or more (Hong Kong Island/Kowloon only). 
-------------------------------------
-This is NOT an allergy-free product. This product may contains milk, egg, nuts and/or gluten etc. 
-Freshly baked with NO preservatives or additives. 
-Please consume 10-14 Days of the delivery/collections date.